The Most Awesome Allergen Free Pizza!!
Decided to do some playing around in the kitchen this weekend and try to make a better allergen free pizza. Nathan is allergic to gluten, dairy, nuts, eggs, soy, rice, tomatoes and MORE so making pizza is tricky to say the least. I had the pizza crust down. This one is one I've used before and I LOVE it. It's thin and crispy, but also very sturdy so it holds up to toppings very well. Best of all, NO EGGS or NUTS! When I make it, I substitute Bob's Red Mill All Purpose Gluten Free flour blend for the coconut flour because, OH YES, Nathan can't have coconut either (but he's fine with coconut oil). I'm sure you can use whatever flour you like and tolerate best. The flour is really just to keep the yucca dough from being so sticky.
For the cheese, I decided to play around with my friend's recipe for Cauliflower Alfredo sauce. Turns out, all I had to do was add some tapioca starch and a little more oil than her recipe called for and cook it down a little! Grating the cheese was also tricky, but freezing it worked wonderfully. More on that later.
For the sauce, I decided to see what I could create from some leftover canned pumpkin we had in the fridge and I can't believe how well it turned out! We've tried a "no-mato" sauce with a beet/carrot base before and I couldn't eat it no matter how much I doctored the sauce up. Pumpkin worked great! I really can't even tell that it's not tomato sauce as weird as that sounds.
So without further ado, here is the final creation!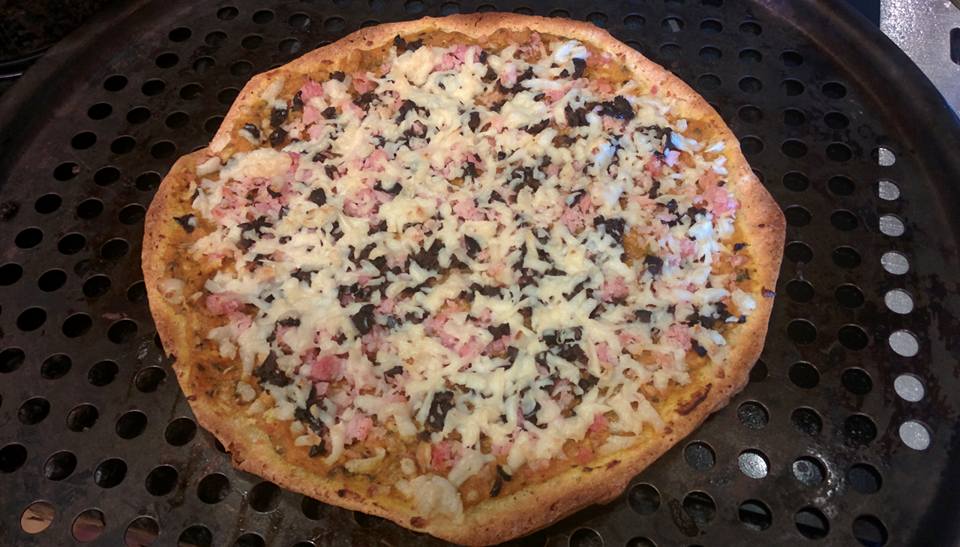 Picture isn't the best because I'm not a food blogger! Sure tasted good though! I put minced ham and olives on the pizza and then covered with the cauliflower cheese.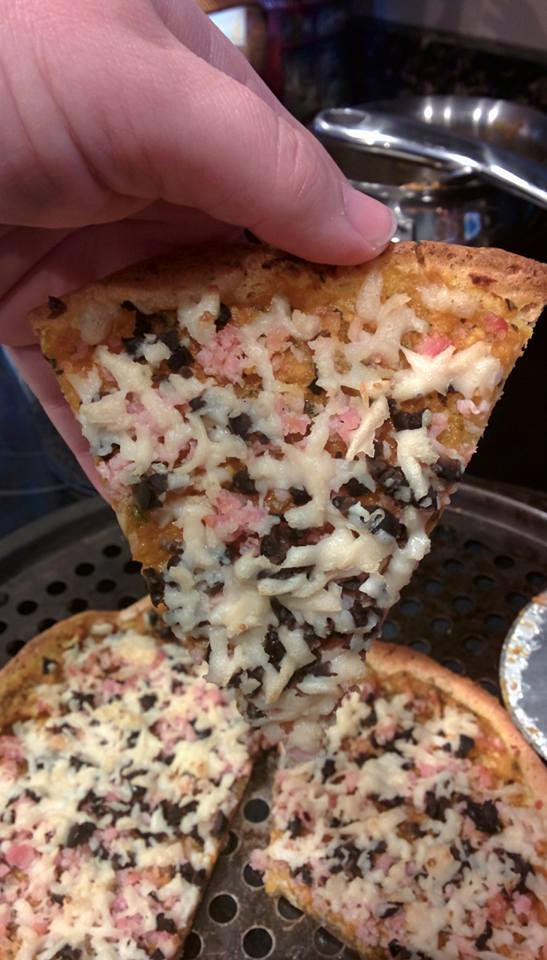 Look how I can totally hold it up like this and the cheese keeps all the toppings in place!
Would you like the recipes now? Wish granted.
Cauliflower Mozarella
Ingredients:
3 tbsp coconut oil
2 cloves garlic, minced
1 head of cauliflower, florets cut off
1 cup homemade chicken broth
1 teaspoon fine Himalayan salt, or more to taste
3 Tbsp. tapioca starch
Directions:
Saute the minced garlic in the coconut oil in a small saucepan over low heat. Allow to cook for a few minutes, until the garlic is tender and fragrant, but not browned. Add the 1 cup of broth to the saucepan, along with the cauliflower, and bring the water to a boil. (The water will not cover the cauliflower, and that's okay.) Once the water is boiling, reduce the heat to a simmer and cover the pot for 8-10 minutes, until the cauliflower is fork-tender and very soft.
Transfer the entire contents of the saucepan into a blender or use the best food processor for the best results. Process until very smooth and creamy. Transfer back into the saucepan over medium heat and stir until mixture gets thick and gooey (like warm queso dip).
In order to be able to grate this, you'll need to freeze it. I did this in a small shallow pyrex dish lined with parchment paper. Once completely frozen (I froze overnight), you will be able to grate it. This was my least favorite part of the project. I tried to do it with my food processor, but it turned it to cheese DUST. This really worked best by hand with a good ol' fashioned cheese grater and some elbow grease. Once you have your cheese grated, transfer to a parchment lined cookie sheet (cheese should be as close to single layer as possible) and put it BACK in the freezer. Once your grated cheese has frozen completely (this takes much less time than freezing the original block), you can transfer the crumbles to a ziplock baggie and store in the freezer for future use. When not frozen, the cheese is very sticky and gooey to handle, so you'll want to put the frozen cheese crumbles right from the freezer onto your pizza in order to maintain the structural integrity of the crumbles. Otherwise, use just like regular cheese on your pizza. It will melt, brown slightly, and even hold all your pizza toppings together!
Pumpkin No-Mato Pizza Sauce
Ingredients:
1 can pumpkin
⅓ cup plus 1 Tbsp. olive oil
1 Tbsp minced garlic
1 tsp. each dried basil, oregano, parsley, and ground fennel seed
½ tsp sea salt
3 Tbsp. lemon juice
2 tsp. sugar
⅓ cup homemade chicken broth
Directions:
Put 1 Tbsp olive oil in small saucepan with garlic spices. Sautee until garlic is tender and fragrant, but not browned.  Add all remaining ingredients and whisk together.
To assemble the pizza, cover a prepared crust with Pumpkin No-Mato sauce, toppings and Cauliflower Mozarella. Bake at 425 for about 4 minutes and then broil for 2 minutes. Toppings should be warmed through and cheese will melt SLIGHTLY (though stay sort of FORMED) and maybe brown a little. Crust should brown a little but watch that it doesn't burn. I loved this pizza and Nathan (picky three year old) ate EVERY BITE.