Recipe: Blueberry Cornmeal Pancakes
Just got this great recipe out of Cuisine magazine and we tried it out this weekend. The cornmeal gives these pancakes great texture while folding beaten egg whites into the batter helps keep the pancakes from getting heavy. Top it with orange maple syrup and some pecans and you've got yourself a recipe for awesome.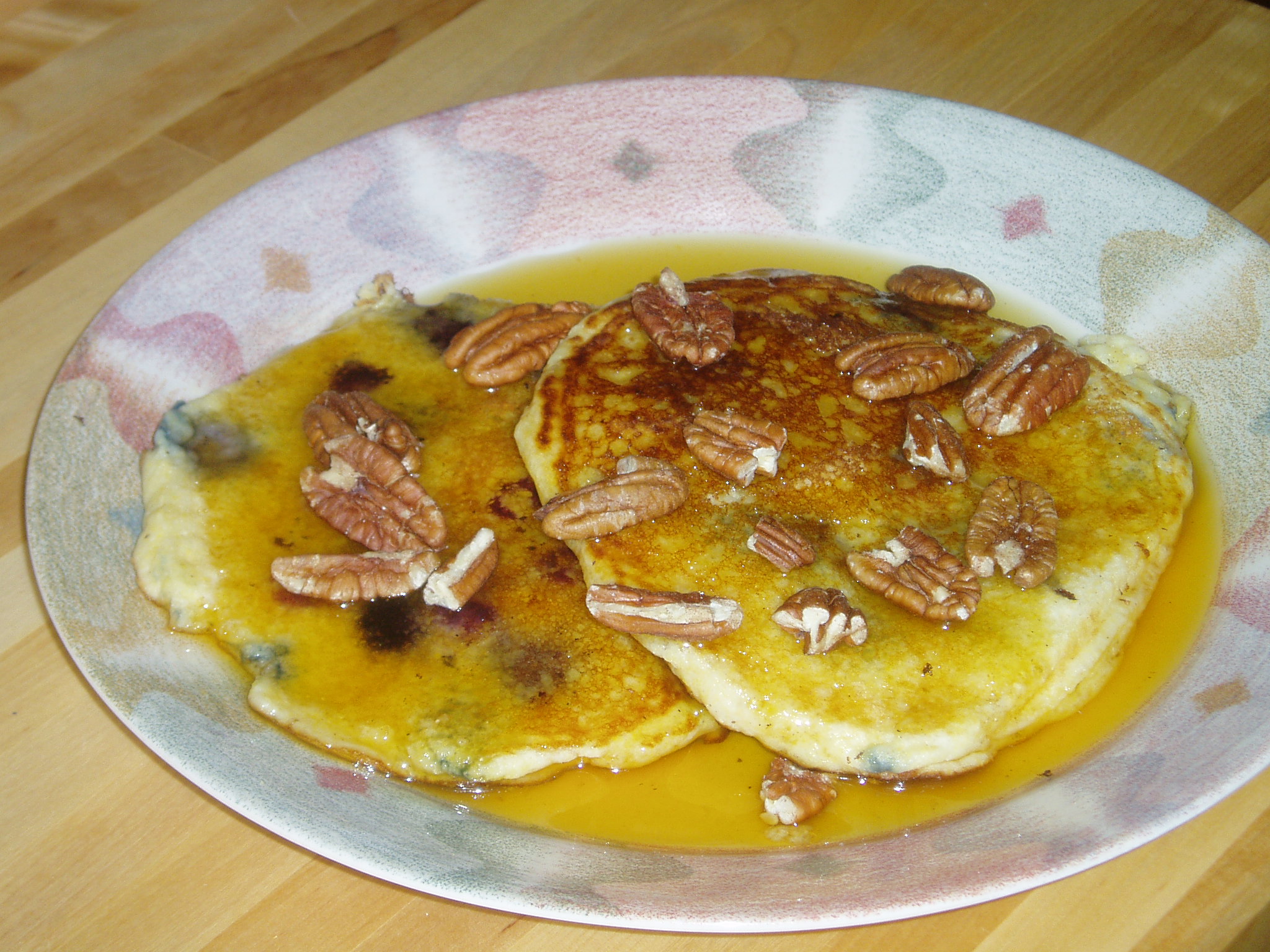 Ingredients:
1 1/2 cups all-purpose flour
1 cup course ground blue or yellow cornmeal (the recipe used blue, but we couldn't justify spending $12 on a bag of CORNMEAL)
3 T. sugar
1 T. baking powder
1 t. table salt
1/2 t. baking soda
2 1/4 cups buttermilk
3 T. unsalted butter, melted
2 eggs (separated)
1 1/2 cups fresh or frozen blueberries (if frozen, do not thaw)
Serve with Orange Maple Syrup (recipe follows) & pecans
Directions:
Whisk together dry ingredients in a large bowl; set aside.
Combine buttermilk, butter, and egg yolks. Whisk wet ingredients into dry until thoroughly mixed.
Beat egg whites in a bowl with a hand mixer (or your awesome stand mixer) until stiff but not dry. Gently fold whites into batter until combined. Do not over mix.
Lightly brush preheated griddle with vegetable oil. For each pancake, pour a scant 1/2 cup batter onto griddle and sprinkle with some blueberries. Cook until bubbles form on surface and bottom is golden, about 2 minutes. Carefully flip pancakes and cook about 2 minutes longer. Transfer pancakes to a plate and keep warm in oven until ready to serve.
Orange Maple Syrup:
1 1/2 cups pure maple syrup
2 T. orange juice concentrate
3 strips orange peel
1 cinnamon stick
Warm all ingredients in a saucepan until heated through.