Some more food porn for you…
One of the ladies that I work with brought in a Hallmark magazine that she got in the mail and there were a few recipes in it that sounded good. I tried them out tonight and was very pleased at how they turned out. I figured you guys might want the recipes, too.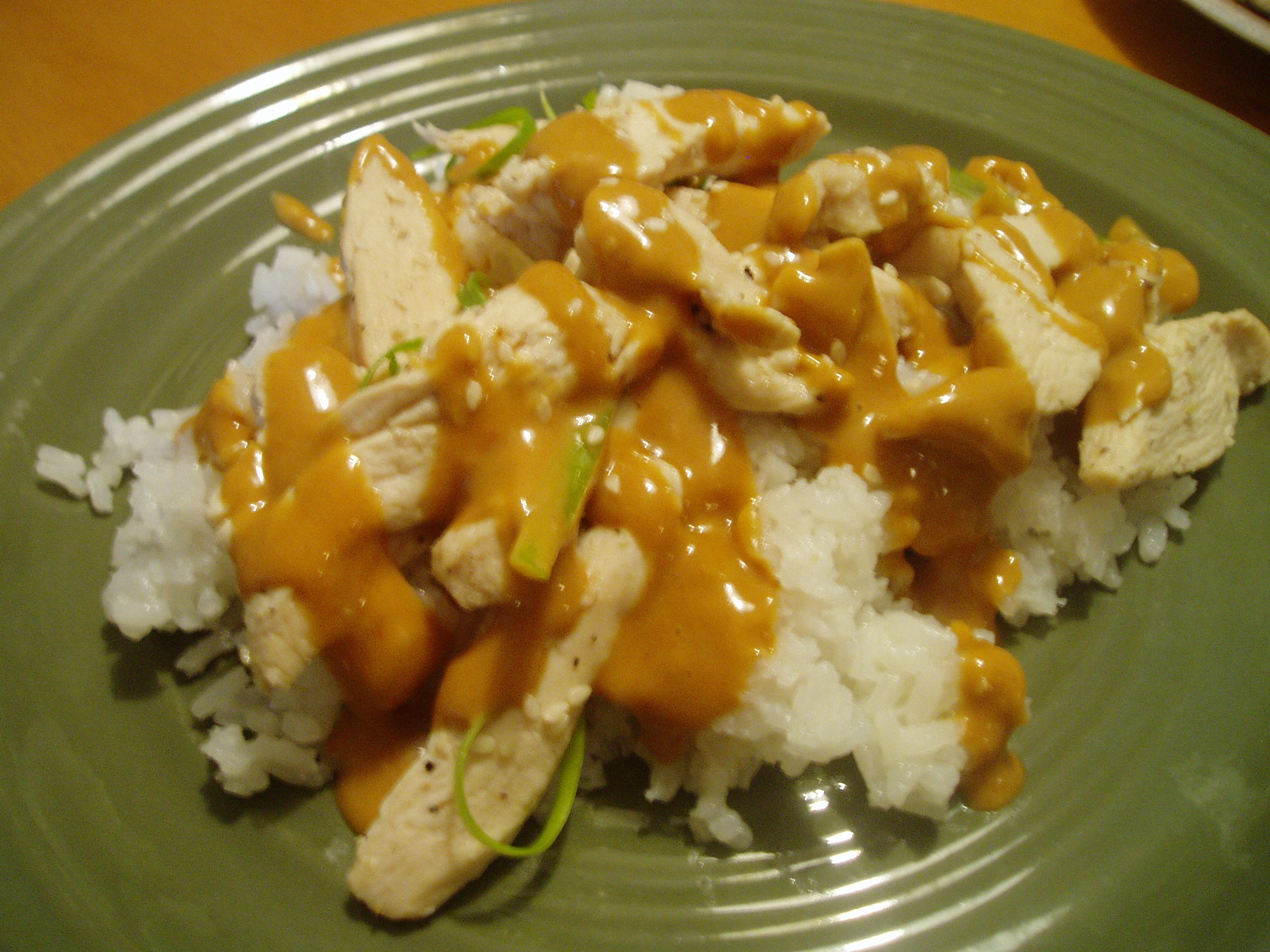 Sesame Chicken
6 tablespoons peanut butter
1/4 cup soy sauce
2 tablespoons lime juice
2 tablespoons white wine vinegar
1/2 teaspoon cayenne pepper
1/4 cup chicken broth or water
3 tablespoons sesame seeds
1 tablespoon olive oil
1 tablespoon sesame oil
2 pounds skinless, boneless chicken breasts, cut lengthwise into thin slices
Salt and black pepper, to taste
2 scallions, thinly sliced
Lime wedges, for squeezing
1. In a small bowl, whisk together the peanut butter, soy sauce, lime juice, vinegar, cayenne, broth, and 2 tablespoons of the sesame seeds. Pour into a small pitcher or gravy boat.
2. In a heavy-bottomed skillet (Your mom is heavy-bottomed), heat the oils over medium-high heat. Add the chicken and season lightly with salt and black pepper. Cook until well browned on all sides, about 10 minutes. Remove from the heat and toss with the scallions and remaining 1 tablespoon sesame seeds.
3. Transfer the chicken to a serving platter. Garnish with lime wedges. Pass the peanut sauce (Now *what* kind of sauce is that again, Bobbie???) at the table.
Makes 6 Servings
Each serving has: 345 calories, 18 g fat (3.6 g saturated), 40 g protein, 6 g carbohydrates (1.9 g fiber), 90 mg cholesterol, 820 mg sodium. Good source of: niacin, vitamin B6, selenium
Total time: 20 minutes.
The silly magazine paired the sesame chicken with herb-roasted potatoes. I thought it best to serve over rice and it turned out to be a very good thing. The sauce is pretty intense on its own, so use sparingly and let the rice tone it down a bit. We thought the flavor was really interesting and also super tasty.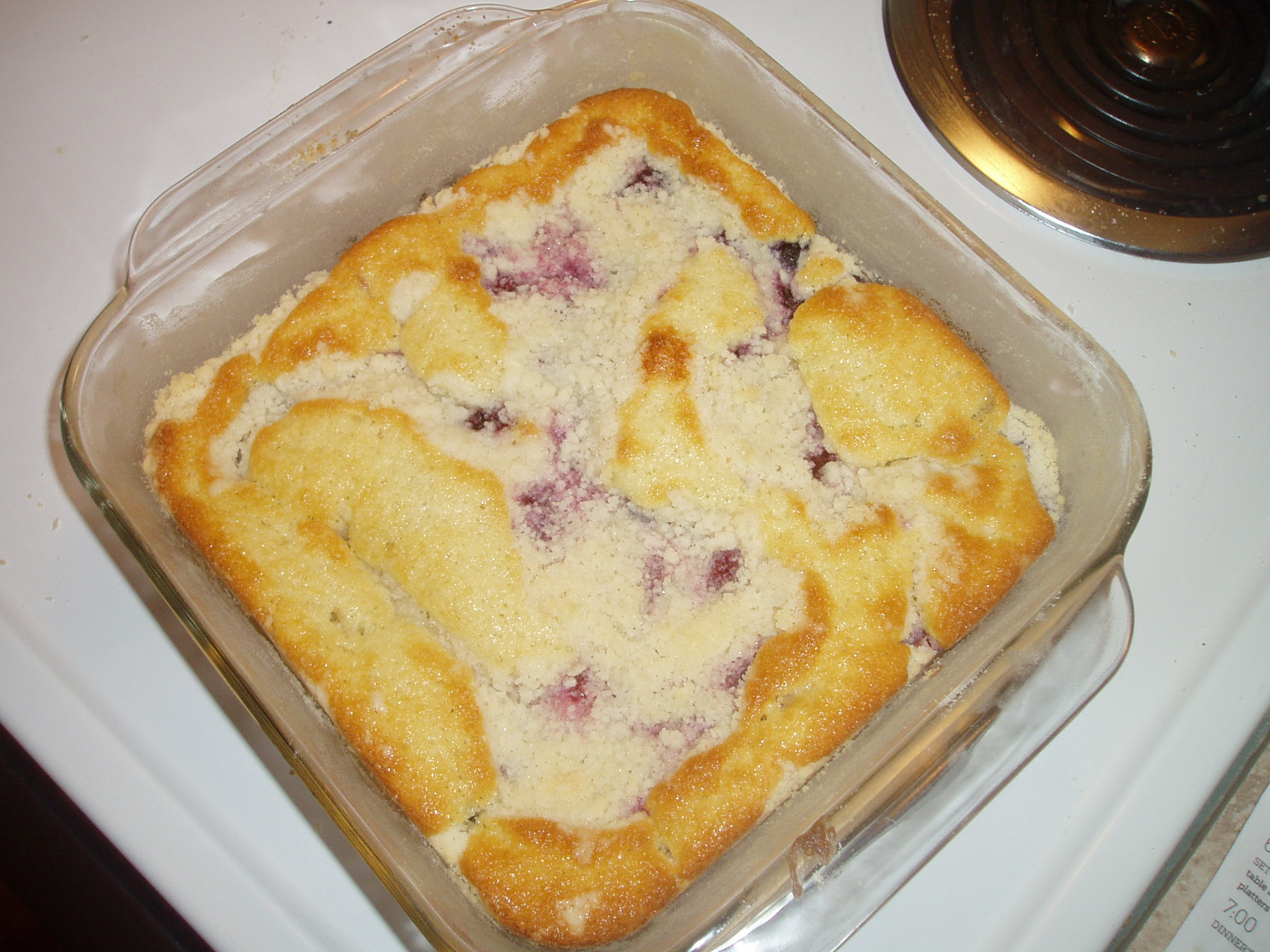 And here's what we had for dessert. It's called Blueberry Boy Bait but I made a little improvement on it.
6 tablespoons butter, cut into small chunks, plus more for pan
1 cup flour, plus more for pan
3/4 cup sugar
1 teaspoon baking powder
1/2 teaspoon salt
1/2 cup milk
1 large egg, separated
1/2 teaspoon vanilla extract
1 cup fresh or frozen blueberries (here's where I improved. I used a triple berry mix with blackberries, raspberries and blueberries)
1. Preheat the oven to 350 deg. Butter and flour an 8-inch square glass baking dish.
2. In a medium bowl, blend the flour and sugar together. Add the butter and use a fork to break it up and incorporate it into the flour mixture until it looks like coarse meal (like making a piecrust). Measure out 1 cup of the mixture to use as topping.
3. To the remaining flour-butter mixture, add the baking powder, salt, milk, egg yolk, and vanilla, and beat until smooth.
4. In a small bowl, with an electric mixer, beat the egg white until stiff. Gently fold the egg white into the batter. Pour into the baking pan. Spoon the berries over the top and then sprinkle with the reserved topping. Bake for 30 to 40 minutes, or until the topping is lightly browned.
Makes 9 Servings
Each serving has: 311 calories, 13 g fat (7.9 g saturated), 4 g protein, 45 g carbohydrates (1.2 g fiber), 67 mg cholesterol, 297 mg sodium. Good source of: selenium.
Total time: 1 hours.
Hands-on time: 25 minutes.
So there you have it. We thoroughly enjoyed both recipes. Let me know if you like them, too.