Southern Comfort: Turkey Tetrazzini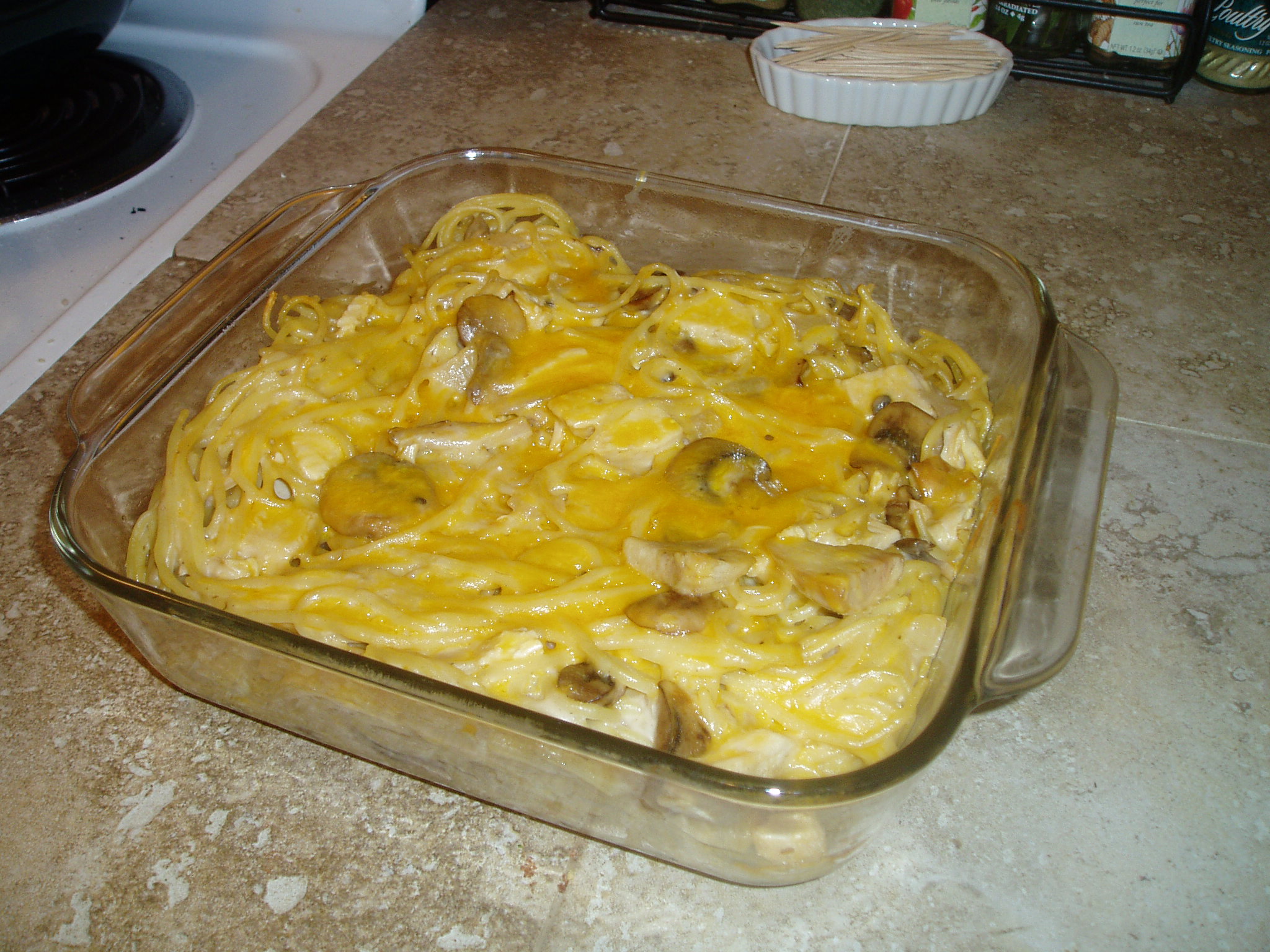 Turkey Tetrazzini is something my mom used to make all the time. It's a Southern spaghetti casserole with turkey (duh), mushrooms, and lots of cheese. It's a good comfort food and not a bad way to get rid of Thanksgiving leftovers. (In case you were wondering, yes, I did use turkey from last Thanksgiving in this. It keeps for a very long time in the freezer.)
Ingredients:
8 ounces of spaghetti, broken into 3-inch lengths, cooked, rinsed, and drained
1 1/2 cups of shredded cheddar cheese, divided
1/4 cup Parmesean cheese, divided
2 to 3 cups of diced cooked turkey or chicken
2 tablespoons of diced pimentos (optional)
1 tablespoon butter
4 ounces sliced mushrooms
1/4 cup chopped onion (white or yellow)
1 can of cream of mushroom soup
1/2 cup chicken broth
1/4 cup dry sherry
salt and pepper to taste
Directions:
Combine spaghetti with 1 cup Cheddar cheese and half of the parmesean cheese. Add turkey and pimentos.
In a skillet, melt butter and saute mushrooms and onions until just before tender. Add sherry and cook until tender.
Add the contents of the skillet to the turkey mixture along with the remaining ingredients and gently stir to combine.
Place in a greased casserole dish and cover with the remaining cheeses.
Cover with lid or tin foil and bake at 350° for about 45 minutes. Serve immediately.
As with the pimentos, Another optional ingredient would be some drained canned tomatoes. If you're going to add tomatoes, make sure to reduce the liquid in other ways (such as cutting back on the broth) or you'll end up with a bit of a soup. I did a double batch and it doubled wonderfully. This isn't a bad main dish substitute for macaroni and cheese, and you could probably play around with adding different vegetables to make it a full-on meal. Mmm-mmm good.