Recipe: Pumpkin Bisque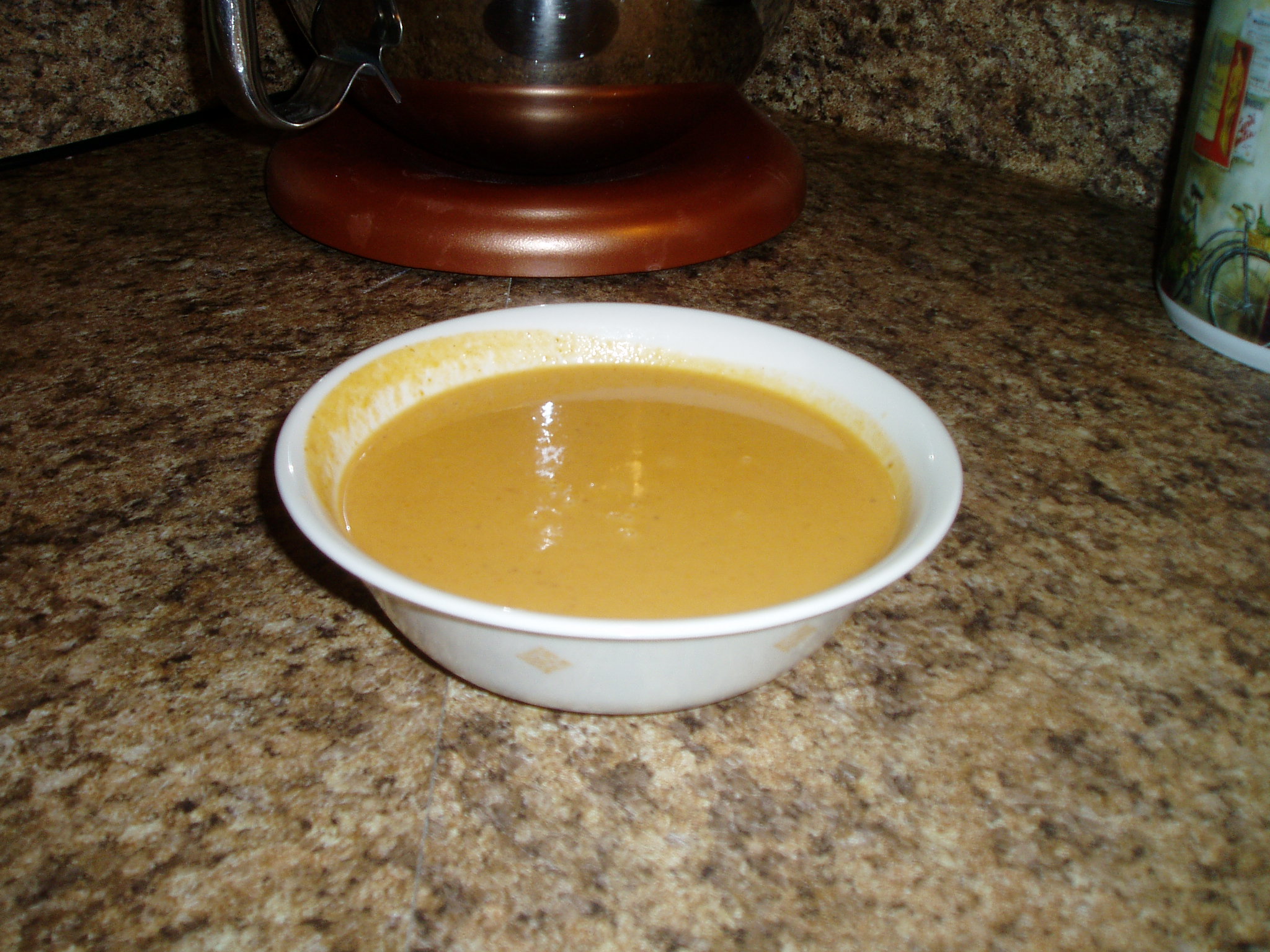 I'm a pretty good pantry scavenger when our fridge is running a bit low on fresh ingredients. We pretty much hit that point with no milk, eggs or bread in the fridge and a lot of empty shelves. What we did have, however, counted in spades. I can't remember what exactly drove me to think of making a pumpkin bisque, but we just happened to have all of the ingredients on hand. I improvised a bit to give it a bit more of a spicy kick, so I'll claim this recipe as my own.
Ingredients:
2 tbsp butter
1 medium onion, chopped
2 stalks celery, chopped
3 cloves garlic, chopped
4 cups chicken or vegetable broth
1-14.5 oz. can diced tomatoes
2 bay leaves
½ tsp. nutmeg
¼ tsp. cayenne pepper
¼ tsp. chili powder
pinch of cinnamon
1-14.5 oz. can pumpkin
salt and pepper to taste
1 cup heavy cream
Directions
Melt the butter in a pan and saute the onion, celery and garlic until just softened.
Add stock, tomatoes with liquid, bay leaves and nutmeg. Simmer about 30 minutes.
Remove the bay leaf and strain the vegetables. Place them into a blender or food processor with enough of the liquid to cover. (I cheated and poured the entire pot into our 7-cup Vitamix, then carefully poured most of the liquid back into the pot.) Puree the mixture, then add it back to the pot.
Add the pumpkin and remaining spices to the mix and heat thoroughly, then finish with the cream. Serve immediately.
This recipe should make about 5-6 servings and is great for cold fall nights. If you prefer to use fresh ingredients, substitute 2 cups of tomatoes and 2 cups of pumpkin puree for the canned items. I'd also recommend playing around with the seasonings to fit your own tastes (sage, perhaps?), though what we ended up with was savory with just enough kick to remind us that pumpkin isn't just a dessert gourd.