Ordain Women and doing it wrong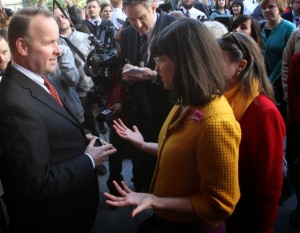 Like 87% of LDS Church membership, I do not support Ordain Women. I believe both their goals and their methods to be deeply flawed and out of touch with how the Church operates. I want to lay out some reasons why I think they have set themselves up for failure.
Ordain Women strikes the immediate wrong tone in their name. It's a demand for an outcome, not seeking an answer to a question of gender roles within church leadership and authority. Asking the question "why is the priesthood a male-only privilege" is a worthy pursuit and worth asking. I fully support seeking a response both personally and by inquiring of church leaders. I do not support asking if your only goal is to get a specific answer.
Speaking of inquiry, honest inquiry happens in a certain way. Sending private letters to church leadership seeking a response fits this mold. So does discussing it with your friends and ward neighbors. So is prayer. Note that these kinds of inquiry are all low-key and conducted in meekness. Doing it in front of a crowd of TV cameras and reporters is not seeking an honest answer; it is attempting to shame another party into caving to your demands. So is attempting to disrupt an important spiritual meeting to "be heard" when the problem not is that you aren't heard, but that you aren't getting what you want. It is flat-out bullying, and it has no place within this organization.
If you believe that the LDS Church is headed by God, and that God reveals his will through a chosen prophet of the church, then you can reasonably assume that should the ordination of women be of God, it will be done according to the Lord's timeframe. Public pressure will change absolutely nothing in this regard. It is, at best, a non-productive activity with no effect on if or when a final answer will be received.
Regardless of what the answer is, Ordain Women has gone about seeking it in the worst possible way, one that alienates with confrontation and demands. It is entirely possible to get answers to tough questions without going this route. I hope Ordain Women supporters will realize this sooner rather than later. Those who do not may subsequently jeopardize their membership in the Lord's kingdom as the so-called September Six did two decades ago.