The new recipes never end!
Tonight, we decided to do some more Asian cuisine. The central ingredient was asparagus being that we had some in the fridge that needed to be used. I've been wanting to try an asparagus stir-fry for a long time now, so we grabbed our cookbooks and went to searching.
This selection comes from The Well-Seasoned Wok by Martin Yan. The recipe? Chicken and Asparagus with Black Bean Sauce. Just look at the picture: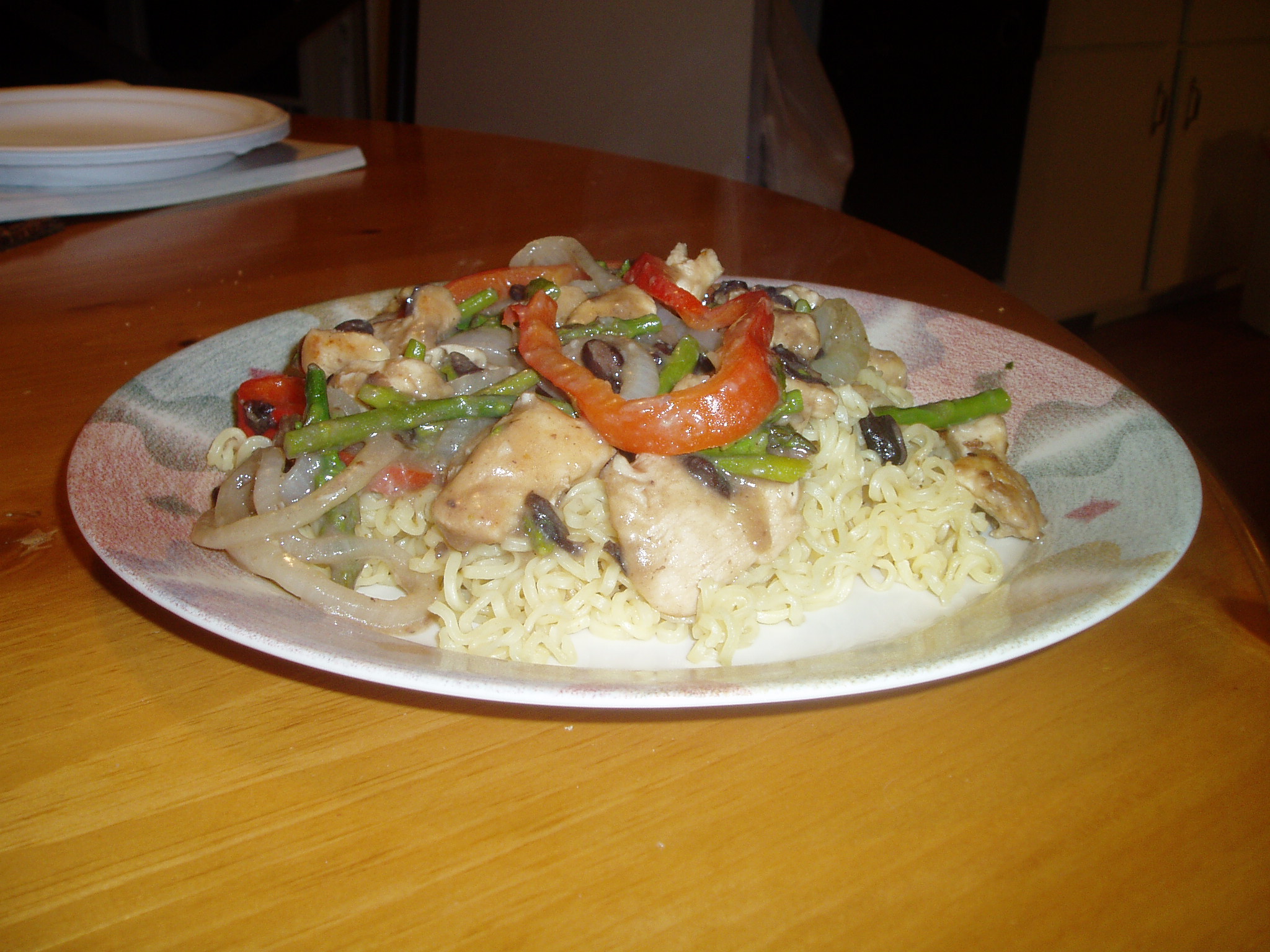 Now that's a work of beauty. Before I delve into the recipe, let me give you some pointers. One, have a good wok. You don't need a $150 steel monster like you'd see in Panda Express, but something of a decent size is recommended. Second, have your ingredients sitting in bowls ready to go. The cooking times on each stage are no more than 2 minutes, and the secret to stir-fry is to stir. That doesn't give you a chance to finish some prep while it cooks. Third, be very aware that the oil can and usually will splatter despite your best intentions. Be ready to stick hands and fingers into cold running water at least once, and don't forget to wipe up the stove when you're done.
And now, on to the recipe:
Marinade:
1 tablespoon dry sherry
1 tablespoon soy sauce
2 teaspoons cornstarch
Main Ingredients:
3/4 pound boneless, skinless chicken, thinly sliced
2 tablespoons cooking oil
1 tablespoon minced garlic
3 tablespoons salted black beans, rinsed, drained, and coarsely chopped
3/4 pound asparagus, tough ends removed, slices into small pieces at a diagonal
1 small onion, thinly sliced
1/2 cup chicken broth
1 medium red bell pepper, seeded and thinly sliced
1 teaspoon sugar
1 teaspoon corn starch dissolved in 2 teaspoons water
Combine the marinade ingredients in a medium bowl, whisking together. Add the chicken and stir to coat. Let stand for 30 minutes. This will give you plenty of time to do the rest of your prep.
Heat a wok over high heat until hot. Add 1 tablespoon of the oil and the chicken and stir-fry for 2 minutes. Remove the chicken from the wok.
Add the remaining oil into the wok along with the garlic and black beans. I heavily recommend you have the garlic and black beans in the same container to avoid spitting. Cook for 10 seconds before adding the asparagus, onion, and broth. Cook covered for 2 minutes.
Return the chicken to the wok. Add the bell pepper and sugar and stir-fry for 1 minute.
Add the cornstarch mixture and cook, stirring, until the sauce boils and thickens.
Allow me to make some recommendations on the ingredients. For stir-frying, there is simply no substitute for peanut oil. It has a very high smoke point making it well-suited for high-temperature cooking. Also, arrowroot powder, while expensive, adds no flavor of its own to the dish nor does it change colors like corn starch will. You may or may not notice a difference in a dish like this, but I thought I'd throw that out there. There's also variations in how you prepare the beans. You can leave them whole for a milder flavor or you can crush them from a stronger flavor. I used canned black beans and left them whole for this dish. They ended up getting soft and melding into the dish anyway.
While the book makes no recommendation on what to serve this dish on, we went with chicken-flavored Ramen noodles. I would imagine most sticky rices, like Calrose, would also work very well. I could even see this going over some crispy wok-fried potatoes (which, by the way, make an excellent breakfast side). The potatoes are easy: chop up the potatoes into bite-sized cubes and toss 'em into a hot wok with a generous amount of oil so that they all get coated and will all get crispy. It takes a while for them to finish getting crisp, about 10 minutes.
Dinner at our place, anyone?