How do you improve upon a chile relleno?
It's pretty hard to make a chile relleno even better. You take a chile pepper, stuff it with cheese, and coat it in a crispy coating. Well, we found a way: roll it up in a piece of chicken. I give you… the Pollo Relleno!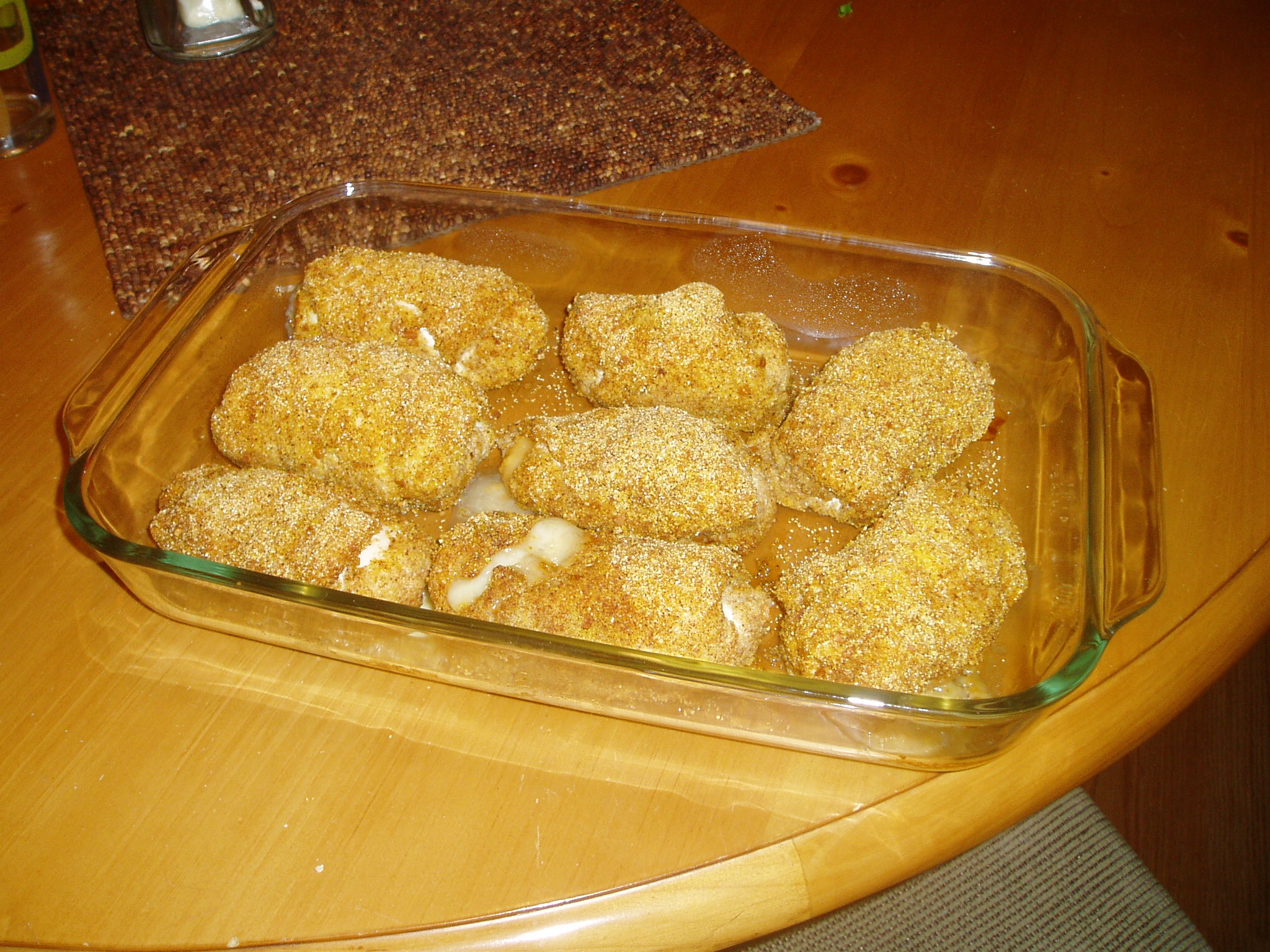 The best part is that such a delight is a low-fat dish containing only 10g of fat. What's that? Now you really want the recipe? Well here it is.
Ingredients
6 skinless, boneless chicken breast halves (about 1½ pounds)
1/3 cup cornmeal
2 tablespoons taco seasoning mix
1 egg
4-ounce can of whole green chili peppers, rinsed, seeded, and cut in half lengthwise (6 pieces total)
2 ounces of Monterey Jack cheese cut into six sticks
2 tablespoons fresh cilantro (preferred) or parsley
¼ teaspoon black pepper
¼ teaspoon crushed red pepper
Directions
Rinse chicken, pat dry. Place each breast half in an open Ziploc bag (gallon size works best) and use the smooth side of a mallet to pound it flat to 1/8 inch thickness. Make sure it is pounded wide rather than long.
Combine cornmeal and taco seasoning in a bowl. In a seperate bowl, lightly beat the egg.
For each roll, place one of the chili pepper halves on the wide end of the chicken and a piece of the cheese on top of that. Add cilantro, black pepper, and red pepper.
Roll up each piece like a jelly roll. To do to, fold the sides on top of the filling and then start rolling it up.
Dip the rolls into egg to coat, then coat in the cornmeal mixture. Place them seam side down in a baking dish.
Bake uncovered in a 375° oven for 30 minutes. If desired, sprinkle with shredded Jack cheese and serve with salsa on the side.
The great thing about this recipe is that it also serves as the basis for a bunch of other stuffed chicken dishes. Replace the chili and Jack with ham and swiss, and you have Chicken Cordon Bleu. Chicken Kiev more to your liking? Use butter and herbs as your filling. The possibilities are pretty much endless.