An Idea So Bad, You Almost Don't Believe It
Someone at Kellogg's thought it would be a really good idea to make these: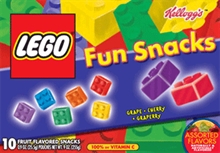 No, this isn't a parody. This is a real product. I think that Gabe at Penny Arcade put it best:
I just spent the first three years of my sons life trying to get him not to eat blocks, and now you're telling him they taste like [redacted] strawberries.
That's about the smartest thing anyone could say on the matter.
h/t: Consumerist for linking to the news post that I probably wouldn't have otherwise read.