Everyone, meet my new dietician: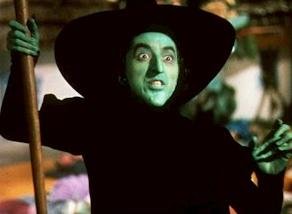 She's an emaciated sadistic little witch. And I wouldn't go back there if you paid me. Unless you were paying me to snap the little twig in half.
So seriously. I was really excited about my appointment with this dietician last Friday. She came highly recommended by my neuro-opthamologist as someone that they've used for years with people with my condition. I really don't get it. She wants to put me on a 1200 calorie per day diet with a carb restriction HALF of what my diebetic brother is allowed. And please don't suggest to me that this sounds even a little bit reasonable to you, lest you are prepared for me to burn a hole through your body with my eyes.
The whole reason I wanted to go to a dietician in the first place was so that I could lose weight sensibly and healthfully without becoming a starved diet Nazi. I've got a history of extreme dieting in the past and I really don't need to go there again now that I'm cured [read: fat]. I think I'm going to give Weight Watchers a shot. I like that the points they allot you per day are based upon your weight (more weight = more points). Because lets face it, I burn more calories than you skinny chicks on treadmills just by sitting on my butt typing this blog entry (Must… lift… humongous… arm… to reach… keyboard). In fact, this website told me that I would burn something like 1880 calories just by lying in bed all day. Score! I wonder how many calories a piece of that cheesecake in the fridge has…
I can still use what I know about carb:protein ratios and still eat really balanced, healthy meals. We already don't eat a lot of packaged stuff, so I think I've got a bit of a head start on a lot of people who have that hurdle to overcome. But hopefully something works because eventually we'd like to have some little'ns running around besides Chloe.