Recipe: Chicken and Dumplings
Mmmm… comfort food without all the calories? Too good to be true? Not so, we found out tonight. This will definitely be a re-do. So delicious! Jesse actually concocted this beautiful dish out of two recipes that just didn't seem to have everything we wanted. So I think he can claim this one as a Jesse original. Let us know what you think! Also, this recipe wasn't exactly a quickie. It took about an hour and fifteen minutes. I wouldn't let that stop you from making it, but maybe make a double batch so you have plenty of leftovers to make it worth your while.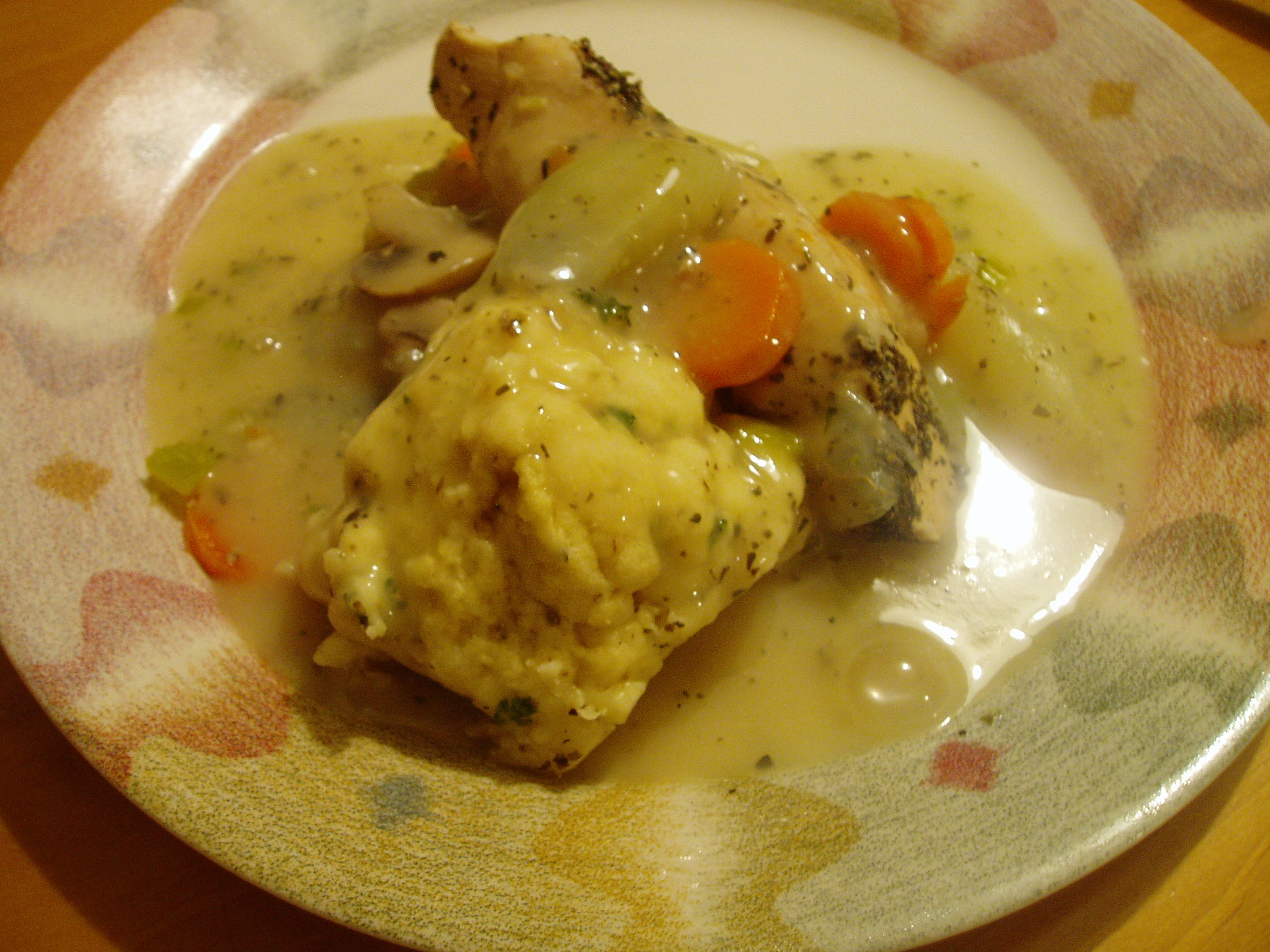 Ingredients:
2-2½ lbs. boneless, skinless chicken breasts, halved
3 cups water
1 medium onion, cut into wedges
1 tsp. dried basil, crushed
½ tsp. salt
¼ tsp. pepper
1 bay leaf
1 tsp. thyme
1 cup sliced celery
1 cup thinly sliced carrots
½ cup sliced fresh mushrooms
1 cup all-purpose flour (whole wheat would be even better)
1 tablespoon freshly snipped parsley
2 tsp. baking powder
¼ tsp. salt
¼ tsp. dried oregano, crushed
1 egg
¼ cup 1% milk
2 tbsp. cooking oil
½ cup cold water
¼ cup all-purpose flour
Directions:
In a large pot or skillet, combine chicken, water, onion, basil, ½ tsp. salt, thyme, pepper and bay leaf. Bring to a boil, then reduce the heat and simmer covered for 25 minutes. Add celery, carrot and mushroom. Bring to a boil, then reduce heat and simmer covered for 10 minutes. Discard the bay leaf.
For the dumplings, combine 1 cup flour, baking powder, the remaining salt, parsley and oregano. In a separate bowl, combine egg, milk and oil. Beat wet ingredients until combined, then add in the dry ingredients. Mix with a fork until it forms a dough. Separate into six portions.
Carefully add the dumplings to the pot, placing them on top of the chicken pieces to minimize contact with the broth. Do not place in the broth. The idea here is to steam them, not boil them. Bring to a boil again, then reduce heat and cover, letting them steam for about 10-12 minutes. Do not open the lid during this time.
When complete, remove the veggies, chicken and dumplings from the pot and set them aside, keeping them warm. Pour the remaining broth into a saucepan. (The book says to skim the fat, but there's almost none of it in this recipe so don't bother.)
In a container, combine the cold water and remaining flour with a wire whisk until smooth. Over medium-high heat, whisk this mixture into the broth. Stir constantly until it thickens and bubbles. Continue doing so for about a minute after bubbles form. Serve the gravy over the chicken, veggies and dumplings.
Recipe makes approximately 6 servings
Calories: 353.2
Fat: 7.2 g
Carbohydrates: 25.5 g
Fiber: 2 g
Protein: 45.1 g
We'll be trying to post some more healthy recipes as we try them out. Go ahead and try them. Your taste buds AND your waistline will thank you!