Recipe: Tilapia with Chili Cream Sauce
This week is a week of new adventures in food. Our goal? Try tasty new dishes that don't pack on the pounds. It's been a while since we've had fish, so I naturally gravitated towards a tilapia recipe. For those that don't know, tilapia is a mild whitefish that even Shauna enjoys. (The first time she had it, I believe she declared she could eat it every night. This is from someone who could only do halibut every other week, tops.) It's a good pick for this recipe since the flavor of the fish doesn't get in the way of the somewhat spicy sauce.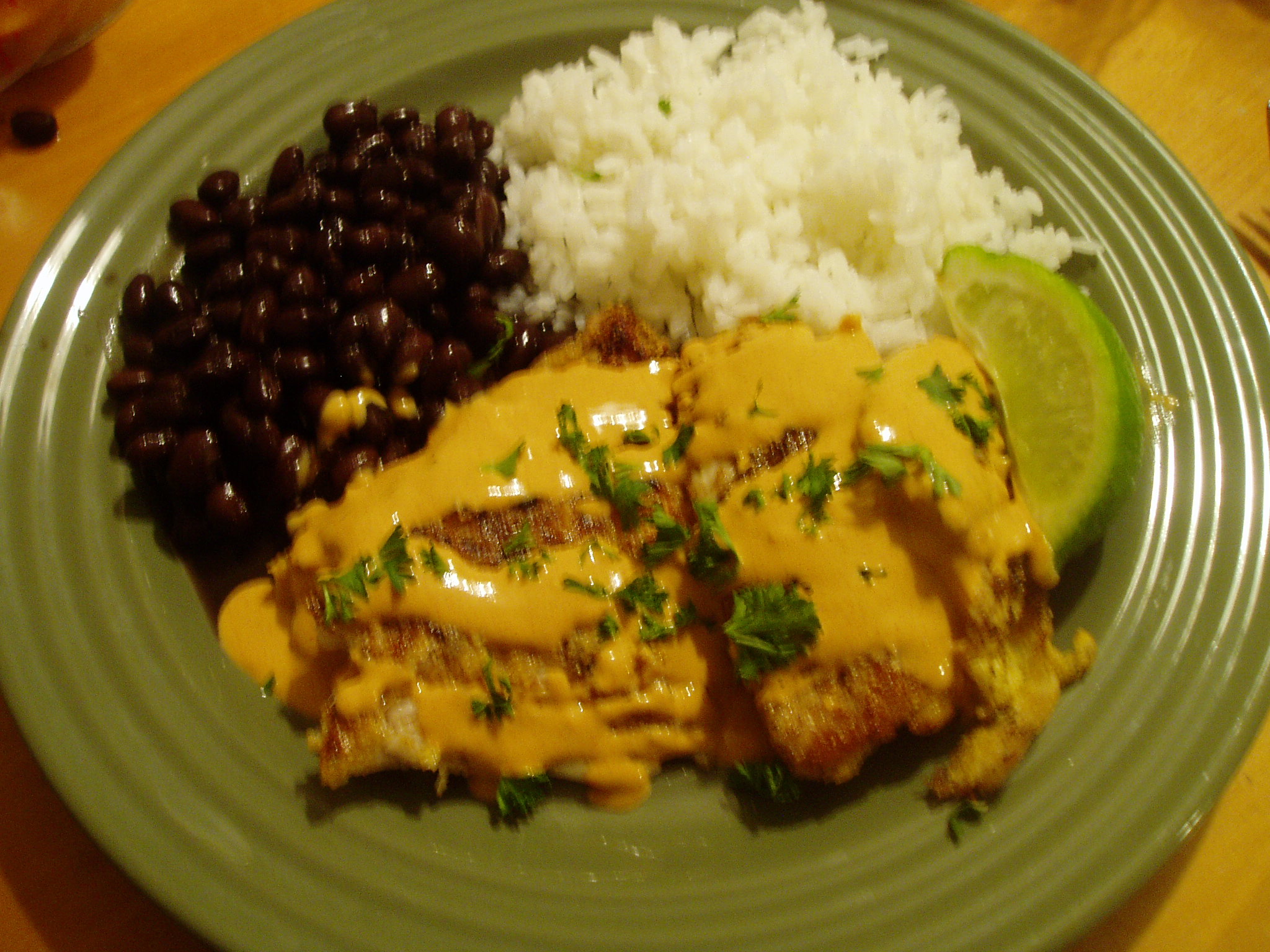 Ingredients:
1 lb. fresh tilapia fillets (about 2-3 fillets)
2 tablespoons cornmeal
2 tablespoons all-purpose flour
Non-stick cooking spray (like Pam)
1 tbsp. cooking oil
1 tbsp. butter
1 tbsp. all-purpose flour
1 tsp. chili powder
¼ tsp. salt
¼ tsp.ground cumin
¾ cup fat free half-and-half (yes, this exists)
2 tbsp. snipped fresh parsley or cilantro
lime wedges (optional but highly recommended)
Directions:
Divide the fish into about 4 even portions. If you have two larger filets, this will be easy.
Mix the cornmeal and 2 tbsp. flour, then dredge the fish in it to coat.
Spray a nonstick skillet with cooking spray and add the oil, heating over medium-high heat. When hot, add the fish pieces and cook for about 2-3 minutes per side or until flaky.
In a small saucepan, melt the butter. When it starts to bubble, add the flour, chili powder, salt and cumin. Stir with a whisk to ensure it mixes properly. Continue to whisk until it is well-combined. Slowly add the half-and-half, stirring constantly. You will cook this over medium-high heat until it becomes bubbly and thickens, then cook for about another minute.
To serve, spoon the sauce over the fish and sprinkle with the parsley or cilantro, garnishing with lime wedges.
The original recipe called for WAY too little oil to get the job done. (A teaspoon? Are you kidding me?) Without enough oil, the fish just doesn't cook up quite right and Pam isn't up to the task. Since you're limiting how much oil you use and fish isn't very fatty, don't sweat it too much. As you can see, we had this with rice and black beans, a really good combination. The lime wedges, while optional, add a lot of flavor to the plate when you squeeze the juice out and I wouldn't advise omitting them.
When I followed the directions in the book to make the sauce, it ended up a horrible mess. The recipe wants you to reuse the fish pan to make the sauce, but it's so hot that the butter, flour and spices end up burning a little bit and picking up bits of burnt breading from the fish. When I tasted the end product, I was horrified and started over from scratch. There are some times when you just don't use the pan drippings.