Recipe: Zuppa Toscana, Light Style
I was looking at our pantry trying to figure out what to make for dinner and the bag of potatoes kept staring at me. Frying was just too messy, mashed potatoes was too much work, and our standby baked potato soup was just way too high-calorie for me to consider it. That's when it hit me: Olive Garden's Zuppa Toscana. It didn't take long to find a clone recipe, but it was rife with high-fat ingredients like pork sausage and heavy cream. Is it possible to make a healthier version without throwing the taste under the bus? Why yes. Yes it is.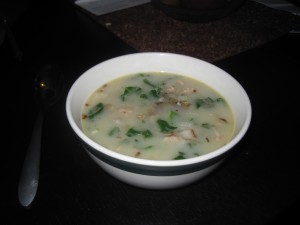 Ingredients:
1 lb. chicken or turkey sausage (sweet Italian preferred)
1 ½ tsp. red pepper flakes
4 tbsp. bacon, chopped (about 2 strips)
1 large yellow onion, chopped
2 tsp garlic (about 3-4 cloves)
5 cups water
5 cups chicken broth
1 lb. potatoes, thinly sliced (about 3 large or 6 small/medium)
1 cup whole milk
2 cups kale, chopped
Directions:
Saute the sausage and red pepper flakes  until cooked through. Drain the fat and reserve in a bowl.
In a 6-quart or larger stock pot, brown the bacon over medium heat until crispy and the fat has rendered out. Add the garlic and onion and cook until translucent.
Add the water and broth and bring to a boil. Drop the heat to medium-low. Put in the potatoes and simmer until they are tender and crumble, about 25-30 minutes
Stir in the milk in a thin stream, then add the sausage and kale. Allow the carryover heat to bring the kale to just done.
So how was it? A pretty darn close facsimile of the real deal, and a scant 125 calories per cup. I made a mistake and accidentally added 1 ½ tablespoons of red pepper which made it pretty spicy. I really liked it, but Shauna thought it was a bit on the hot side. Your tastes may vary. I'd also note that you should not use less than whole milk because you need that fat to add body to the soup. You can already tell the difference by scaling back from cream and I doubt you want to go any further.