More on budgeting (or: Moron Budgeting)
Well, since we discovered the wholly obscene amounts of money that we were spending on food, I've become a crazy person. Crazy in the sense that I am now obsessed with creating and maintaining a budget. The kind of crazy that my dad would encourage (Happy early Father's Day, Dad!). Since I work in a financial field full of data collecting and spreadsheets, I turned to my old friend: Excel. I've created a budget (based upon a simplified version a coworker sent me. Thanks, Emily!) that is so pretty I can't stop staring at it. I seriously pull it out all the time just to admire it. And now I'm going to show it to all of you so that you can admire it as well.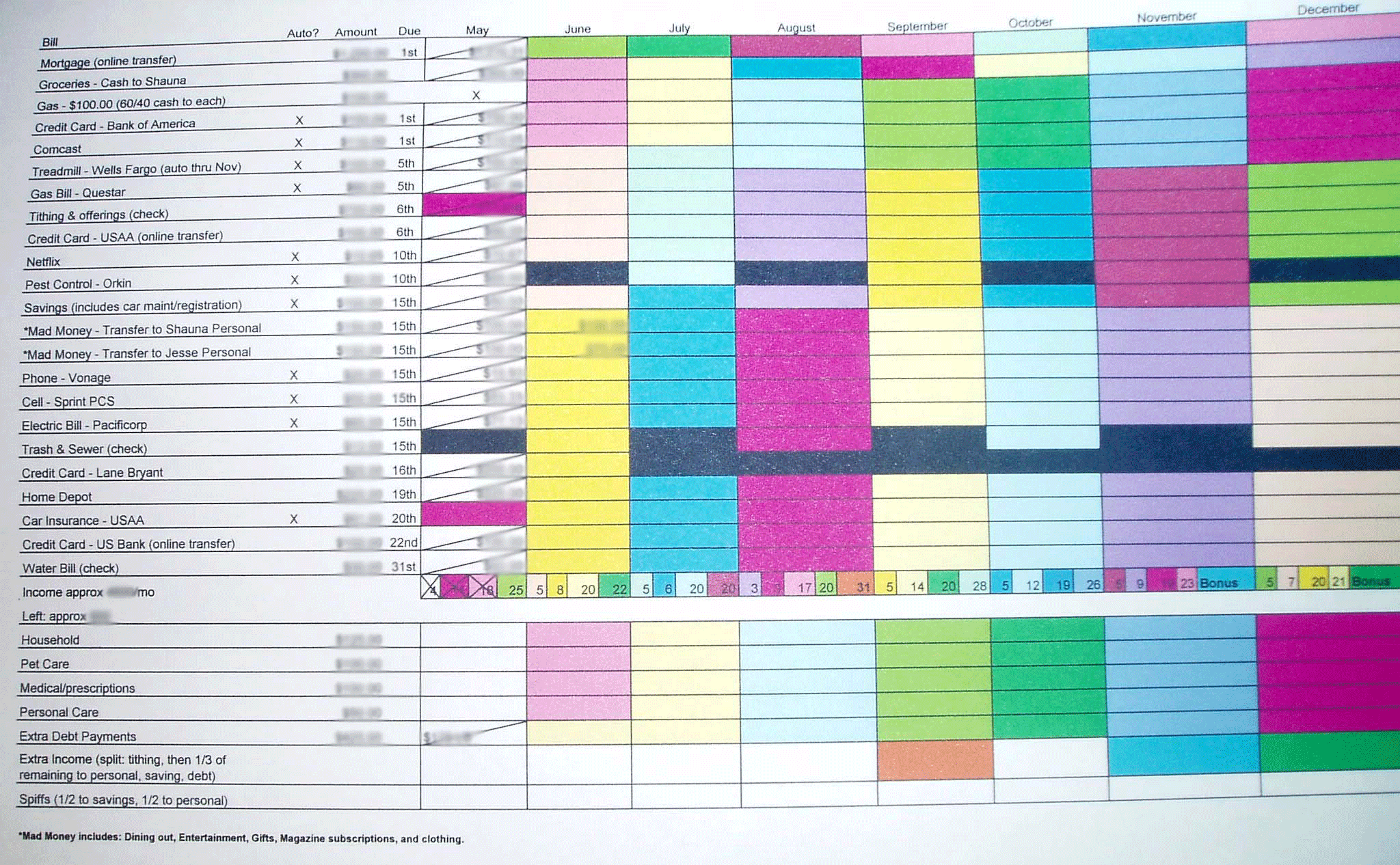 Isn't it beautiful? Let me break it down for you in case you want to create one of these (why wouldn't you??)
All our expenses are listed in column A
Column B shows if the bill is set for automatic payment
Column C is the amount. For credit cards, we listed the minimum payment because we have a separate budget item for "extra debt payments".
Then in column D I listed the day of the month the bill is due. Each item should be sorted by the date.
The remaining columns are months of the year. Once the bill has been paid, I list the amount actually paid and then cross it off (this is especially important for bills that fluctuate like utilities). It also helps because if you see a pattern of paying over or under the amount you've budgeted very often, you can adjust the amount budgeted.
In Column A, all of the "fixed" expenses are listed in the top half as well as essentials that I don't ever want to shortchange like food, gas and savings.
The lower portion of the spreadsheet is budgeted items which could be adjusted as necessary.
To separate the two categories of expenses, I've created a row which has the days of the month of all of our paychecks.
Each box that represents a paycheck gets a color and then that color is given to the cell representing each expense that should be paid with the money from that check. (black cells are not paid that month. For example, we only pay garbage/sewer every other month). The color coding helps because once we get paid, we can divvy up the money where it needs to go and make sure that we have enough to cover everything until the next paycheck comes.
We've also stipulated how extra income should be handled (tithing comes out first, then 1/3 of the remaining goes to savings, 1/3 to extra debt and 1/3 to personal accounts). For example, I get paid bi-weekly, but I've chosen to budget based upon only getting paid twice a month. That way, when the third check comes, we can put it into savings and extra debt payments rather than just spending it like usual.
To help us enforce all of this, we needed to put the breaks on the plastic usage. We actually don't even use our credit cards much. What happens is that we use the debit cards, not paying attention to how much we've got in the bank and then when we are about to overdraft, our bank is "nice" enough to transfer a cash advance from our credit card to cover it. Again and again. At a hefty cash advance rate. Plus a fee for making the transfer.
No more!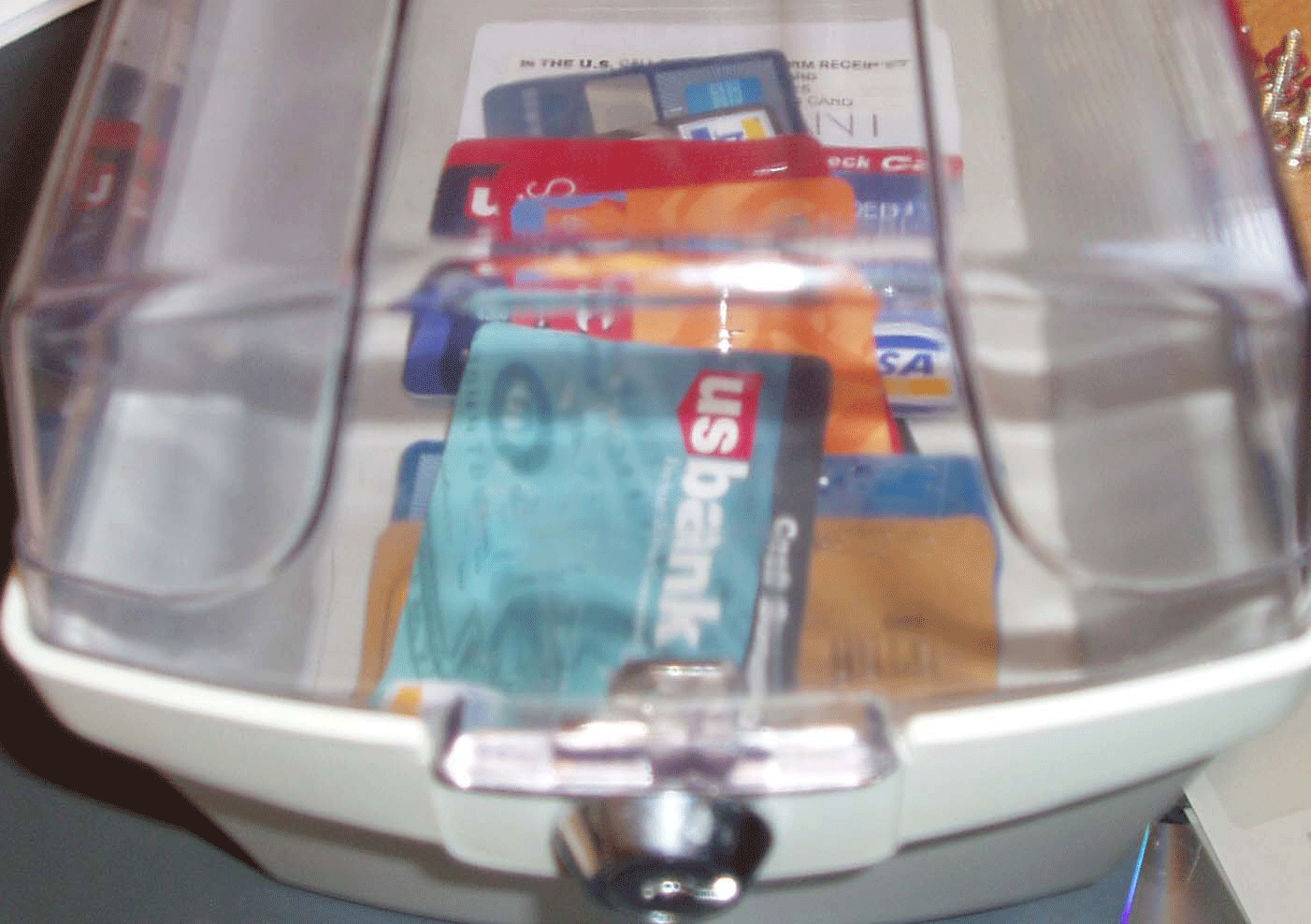 This is an old box for storing floppy disks. It locks. So I locked up all of our credit cards AND debit cards in it. Want to know what we did with the keys?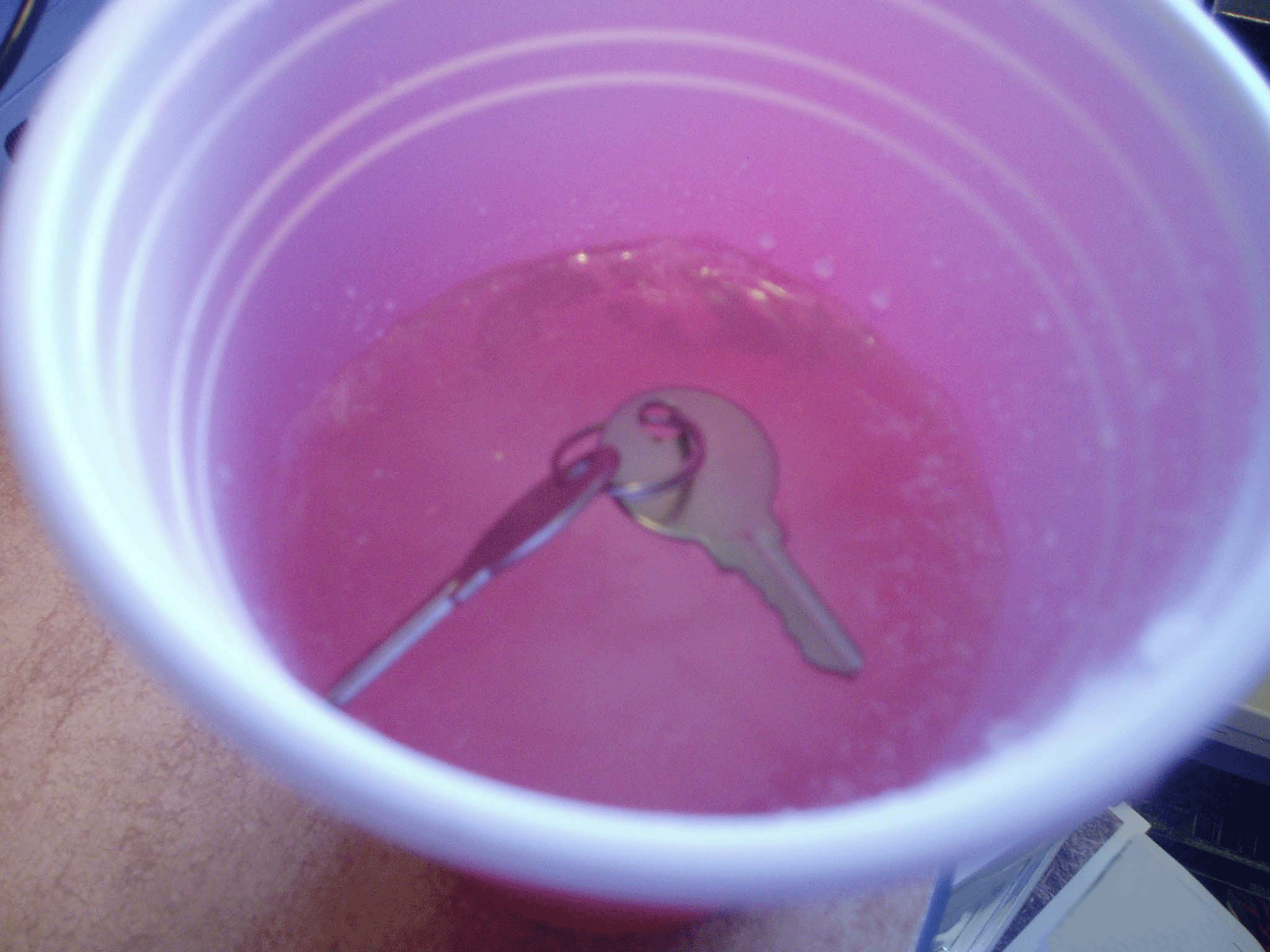 I filled a plastic cup halfway with water and froze it. Then I put the keys on top of the ice, filled the cup with water and stuck it back in the freezer. We can get to them, sure, but not without enough time to really make sure that it's necessary and completely worth the hassle of defrosting.
So there you have it. I'll let you know how it goes.
UPDATE: By popular demand, here's a link to the Excel spreadsheet we use.

(48K XLS)
[poll=3]