Recipe: Italian Breadcrumb Chicken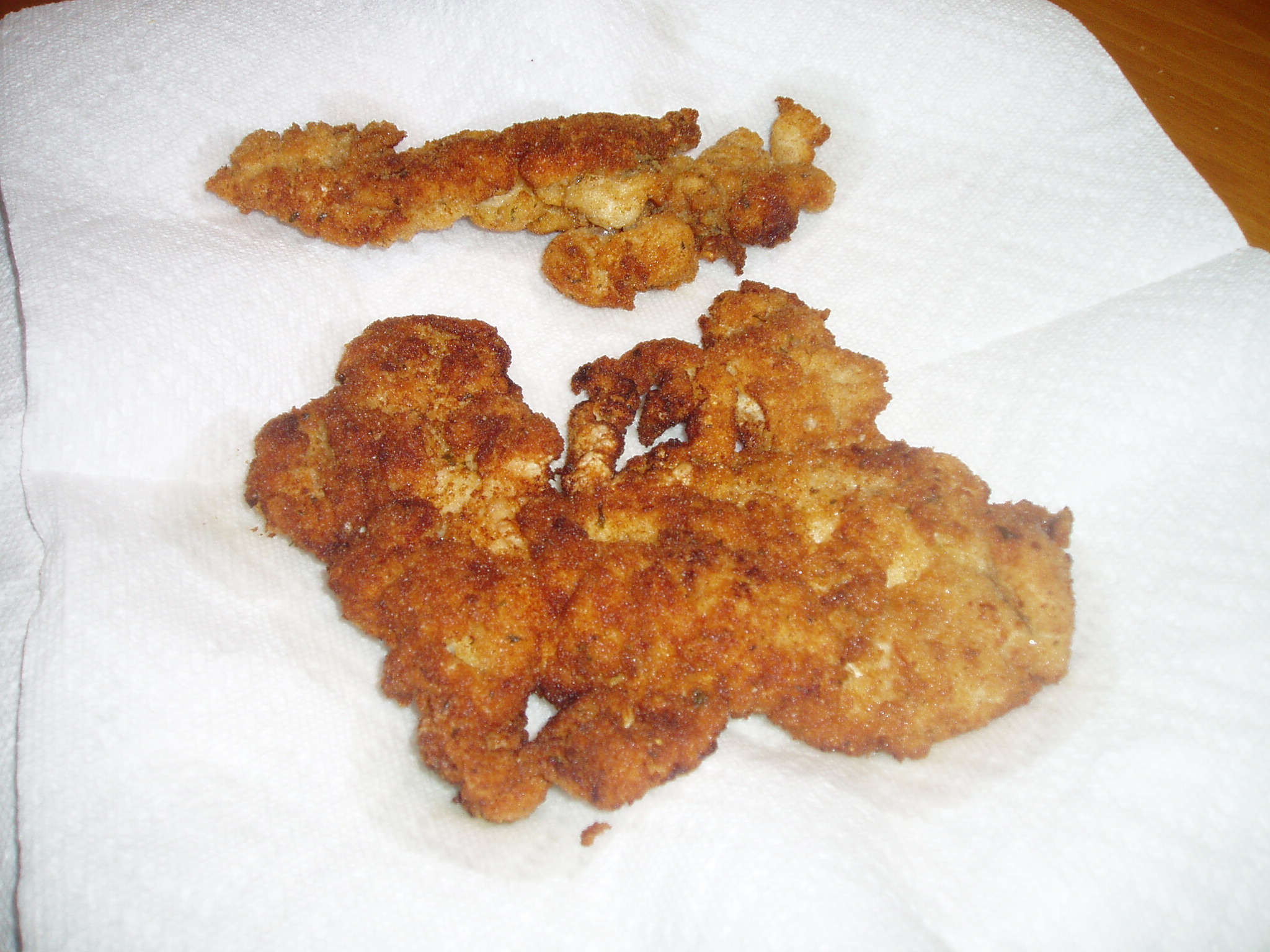 This has been a favorite of mine since a roommate showed me how to make it many years ago. It's simple, delicious and works well for leftovers. Bear in mind that most amounts here are approximations since I don't really follow a recipe.
Ingredients:
4 boneless, skinless chicken breasts
flour
1 egg
¼ cup milk
Italian-seasoned breadcrumbs
olive oil
Directions:
Either pound the chicken breasts flat with a mallet or filet them with a sharp knife ( you want to use a really sharp knife and to get that you need the

best knife sharpener

or the traditional metal stick sharpener, but you need a special touch with that one). You're aiming for as thin as possible, though about ¼ inch will do.
Beat the milk and egg in a shallow pan (I recommend an 9″x9″ Pyrex baking pan). Put the flour in another shallow pan. Put the breadcrumbs on a plate and shake to even them out. At this time, put the olive oil in the skillet to a depth of at least 1/8 inch and heat over medium to medium-high heat.
Dredge the chicken in flour, then dip in the milk and egg mixture to coat. Coat thoroughly in breadcrumbs.
Place the coated chicken breast in the skillet, cooking anywhere from 5 to 10 minutes per side depending on thickness. For thicker pieces, use a lower temperature and longer cooking time. For thinner pieces, a higher temperature and shorter cooking time is better. When done, remove the chicken to a plate lined with paper towels to absorb excess oil.
This is a very simple recipe, yet it always ends up being a favorite. With the way you'll be setup, you should be able to get another piece pounded, coated and ready to cook before you have to flip over the piece already in the pan just like an assembly line. Also bear in mind that if you're going to be making a lot of this at at time, it's best to hold the done pieces under dry heat, like in a warm oven, to maintain crispiness.
Naturally, this recipe can accommodate some variations. If you don't have Italian-seasoned breadcrumbs, you can use regular breadcrumbs with seasonings of your choice. You could also exchange the breadcrumbs for panko for some variety. This recipe could also lend itself well to chicken strips or whole pieces, if desired, though you'll have to adjust your own cooking times with the latter.
Because it takes a fair amount of work to get everything setup (and dirties quite a few dishes),  I recommend making at least 4 whole breasts at a time. We're fond of using the leftovers for chicken parmesan within a few days. To do so, cover with your favorite marinara sauce, top with some grated Parmesan cheese and bake at 400° for 15-20 minutes or until hot. You can also use it for sandwiches, on salads or as-is.