Recipe: Moroccan Chickpea Soup
If you've never been to a Moroccan restaurant before, you have no idea how much you're missing out. North African cuisine is very under-represented and yet is some of the tastiest stuff you'll ever eat. Fragrant and spicy without sending you running for another glass of water, this soup is even good during a summer night. This recipe comes courtesy of Men In Aprons, one of my favorite cooking sites.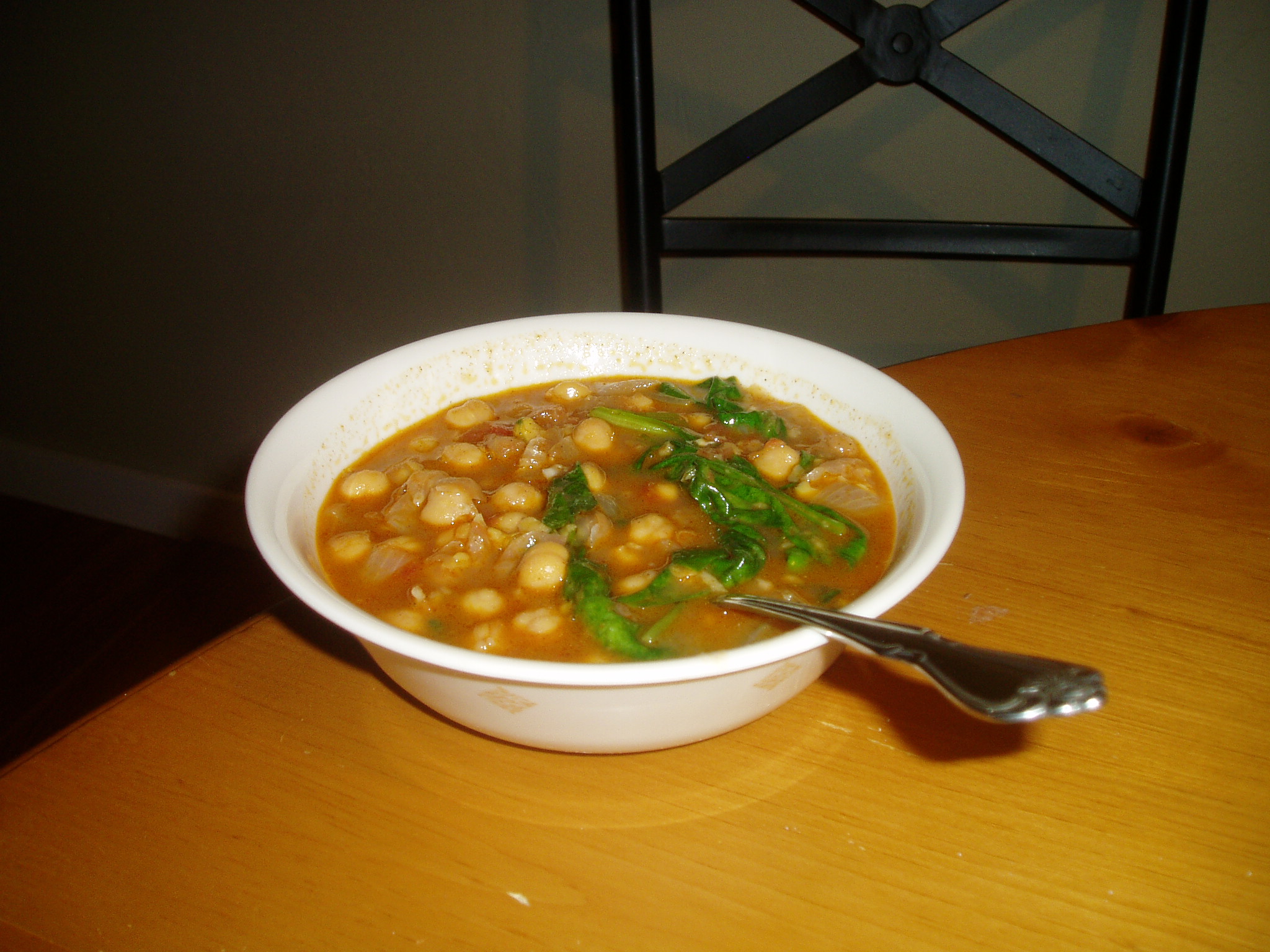 Ingredients:
1 large white onion, chopped (yellow is fine as well)
4 cloves of garlic, minced
1 tsp. ground cinnamon
1 tsp. ground cumin
¼ tsp. ground cayenne pepper
1 tsp. paprika
1 cup canned chopped tomatoes
1 quart chicken stock (reduced-sodium preferred)
2 tsp. sugar
freshly ground black pepper
salt
3 cans chickpeas or garbanzo beans, drained (they're the same thing, but sometimes sold under different names)
2 tbsp. butter
3 tbsp. olive oil
Heaping handful of prewashed spinach
Directions:
Heat the olive oil in a large stock pot over medium heat. Sauté the onion and garlic until the onion becomes translucent. Add the spices and sauté for one more minute.
Add the tomatoes, chickpeas, sugar, stock, a pinch of salt (more if you're a sodium junkie like Shauna), and 10 grinds of black pepper. Stir well. The chickpeas should just be covered with liquid.
Bring to a medium simmer, then reduce the heat to a low simmer for 45 minutes to an hour.
Stir in the butter until melted, then remove the pot from the heat and mash up about half of the mixture with a potato masher. Stir when finished, then stir in the spinach until wilted.
This soup is best when served immediately, but it also manages to reheat well. It's also loaded with both protein and fiber while delivering a lot of "good fat" (mono-unsaturated and omega-3) from the olive oil and tons of vitamins. If you divide the soup into four servings (and they will be rather generous ones at that), you're looking at about 660 calories, 23g of fat (15g unsaturated), 88g of carbs (17g fiber) and 30g of protein. You'll also get large doses of vitamins A, B-6 and C in addition to more minerals than I can fill in right here. This is pretty loaded with sodium, so you might want to look at rinsing the chickpeas and tomatoes to drop some of that or preparing your own to control sodium content.
Shauna was pretty skeptical when I first talked about making it, but became a believer after the first bite. Since we have a lot of chickpeas in the basement that are reaching their expiration date Real Soon Now(TM), we're probably going to make a lot of it this month. Mmm, mmm good. Take that, Campbell's.