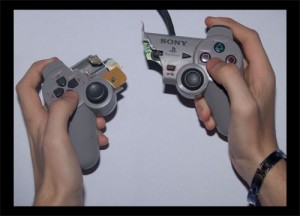 Some of you gamers are really ruining it for the rest of us. You've threatened a game developer into fleeing her home for no discernable reason, you've overreacted to a clear breach of journalistic ethics with rape threats, and now you've caused a YouTube personality to cancel a talk at a university by threatening to shoot a whole bunch of unrelated people. Unfortunately, most of you don't even realize that you've gone entirely off the rails with crazy, and you're only enabling the worst elements of "the other side".
Background on Anita Sarkeesian and Zoe Quinn
For those who are unaware of what's going on, allow me to provide some background. Anita Sarkeesian is a feminist who runs a YouTube series on how women are portrayed in video games. She often makes good points, though she does have a tendency to occasionally overreach and elicit an eyeroll or two. This series has drawn out a bunch of self-described "social justice warriors" (or SJWs) who have made it their mission to prove beyond any shadow of a doubt that every single "gamer" (which is as ill-defined as you imagine it is) is exposed as a racist, misogynist, bigot, and all-around nogoodnik. Unsurprisingly, this hasn't sat well with the vast majority of gamers (like me) who are none of these things, but you know as well as I do that political movements love their broad brushes over dealing in nuance.